2016-05-07
Foot step of Japanese American Robert Shiomi(2) Hajime Shiomi, the crosses ocean alone at age of 13.
Hajime Shiomi was born on 1st Oct 1904 (Meiji 37) to father Saishi from Sashima island and Mother Mann from Mihara. He had one sibling, bigger brother Ichiro, born on 1902.
10 years after his father Saishi migrated America, he got on a ship "Chicago-maru" departing from Yokohama to Seatle alone at age of 13 and after 19 days of voyage, entered America on 10th July 1918 (Taisho 7). He came out from an island without electricity and must have witnessed brick buildings of Seatle at the end of the voyage.
Photo 1 list of passengers of "Chicago-maru".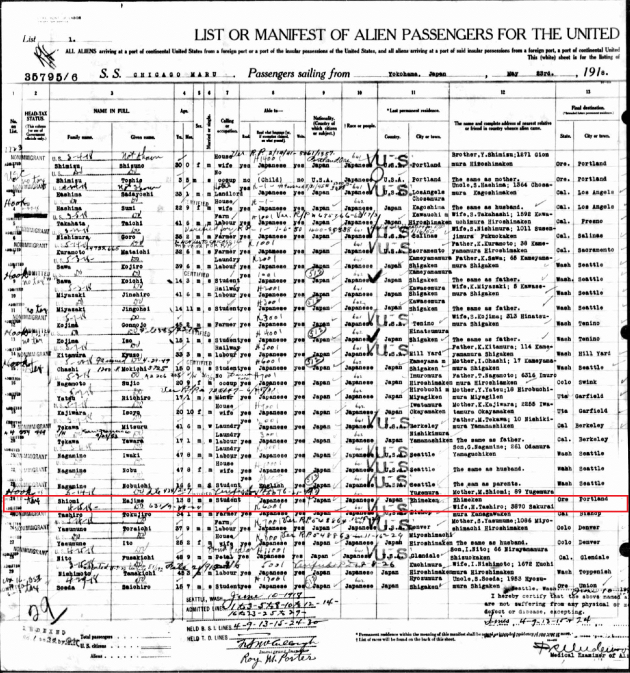 Passengers from Hiroshima and Shiga stand out, but there are some variety, some from Shizuoka, Kagoshima and Miyagi.
Incidentally "Chicago-maru" was built in 1910 (Meiji 43). At that time it crossed between Hong Kong and Seatle Tacoma, via Kobe and Yokohama. Those must have been the time when immigrants from China were banned by government and marked steep drop while Japanese immigrants still increased despite its restriction. After 1920 its route changed to Brazil and it carried lots of immigrants to Brazil.     After that, the ship became under requisition by military and sunk by American submarine off Taiwan in October 1943.*
Hajime used Robert as his English name and entered to Failing Elementary school. The school was founded by Josiah Failing, 4th major of Portland Oregon and was known for its prestige.** An article of Robert winning "the best letter or composition" contest on Memorial day, is posted on local paper Oregonian, 16th June, 9 months after his admission.(Photo2) Saichi, his father who dumped his son who does not even know ABC to local school must have given him a Spartan education, and Robert must have worked hard.
Photo 2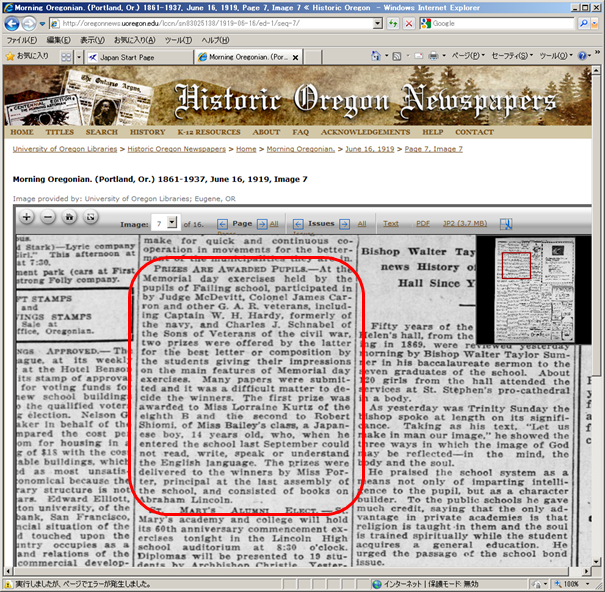 "Second(prize) to Robert Shiomi, a Japanese boy, 14 years old, who, when he entered the school last September could not read, write, speak or understand the English language".
Last year graduation photo dated Jan 1920 was founded in an attic of house of Shiomi. (Photo3) There is one Asian boy with his mouth tight shut amongs 40 or so well dressed anglosaxon boys and girls. The photo must have been sent to his mother Mann, who was keeping house in Japan.
Photo3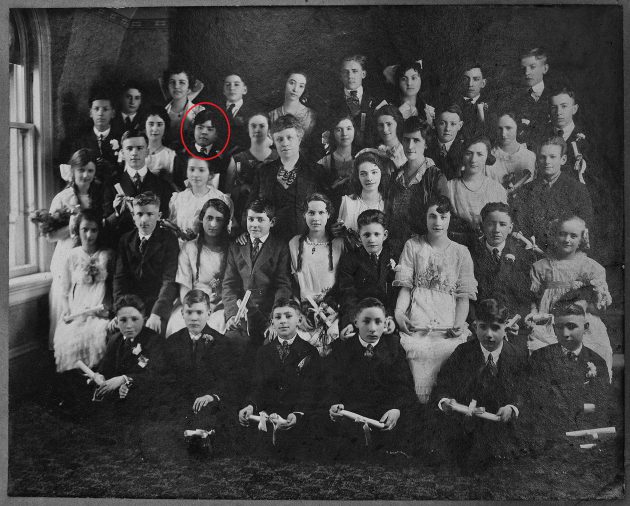 *Chicago-maru
History of Chicagomaru(From DATA BASE) (from Imperial Japanese Navy
requisitioned vessle)
**Failing School
Building still stands today and is used as Portland Community College(PCC).
関連記事