2018-01-15
Foot step of Japanese American Robert Shiomi (7) Social contribution -Exchange Student Support-
Robert Shiomi continuously supported Japanese exchange student and its number exceeds 30. Lots of the students are now gone and details remains unknown, but one of the students is Yoko Matsuoka, granddaughter of Soseki Natsume.
Ms.Yoko Matsuoka is a second daughter of Soseki'sfirst daughter, fudeko and Soseki's apprentice, Joe Matsuoka. Soon after 2nd World War, she obtained scholarship to America and got acquainted with Robert Shiomi while studying at Oregon University for a year. Just before her scholarship ends, Robert offered his support and she continued her study and ended up being Professor Emeritus at university of Oregon.
In her book "America from grandchild of Soseki"*1, she wrote that she was able to continue her studies "thanks to kind successful Japanese American doctor".
Robert attended her wedding on behalf of her father *2, and their relationship including their family, lasted for life. (photo 1,2). By the way, Yoko's son, Ken McClain who has helped Shiomi House before its grand opening, came to Shiomi House with all 3 of his family and stayed 2 nights in July 2017, and reunited our friendship from our father's generation.(Photo 3) In 2018, 100 years from Robert's immigration, I am planning to visit Oregon.
photo1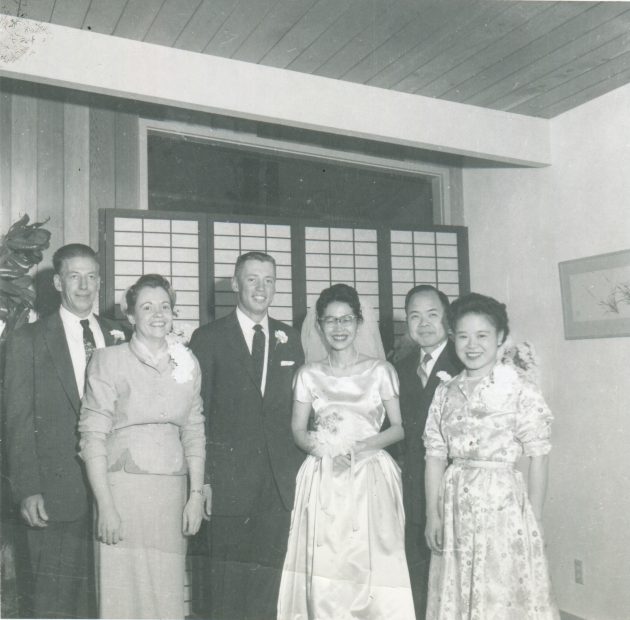 The wedding. Parents of McClain, the groom, the groom Robert McClain, the bride Yoko Matsuoka, Mr.and Mrs Shiomi.22nd December 1956 (presented by Ken McClain)
photo2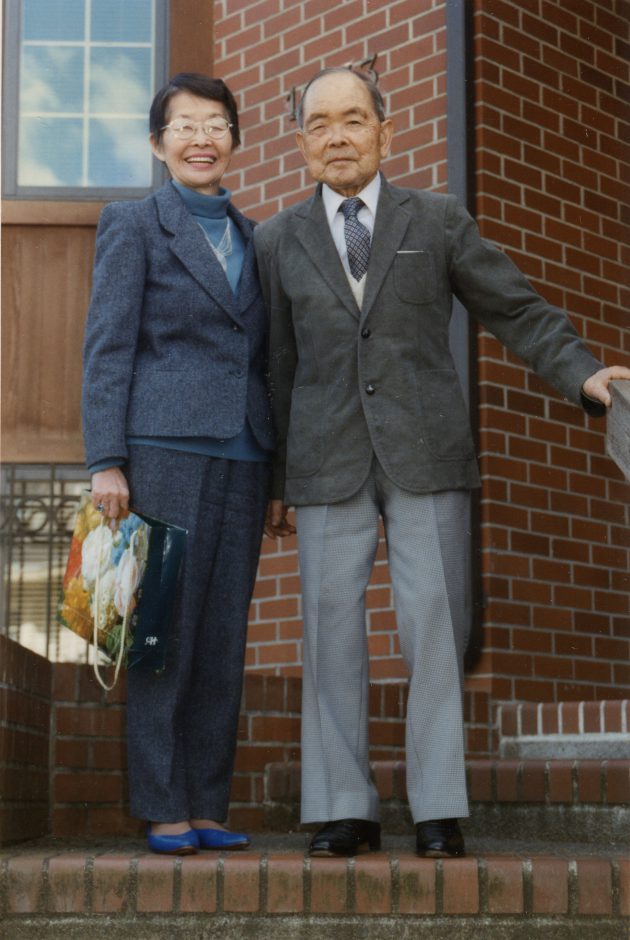 Yoko Matsuoka and Robert Shiomi. In front of University of Oregon's Jordan Schnitzer Museum of Art around 1996 (presented by Ken McClain)
Furthermore, Robert recollected that he "took care" of Ms.Sadako Ogata. Her father, Toyokazu Nakamura, who has been a diplomat was assigned to consulate of Portland for 3 years since October 1932 (Showa 7)*4 and was acquainted with Robert back than.*5
Ms.Sadako, 5 year old at the time, entered Catlin gables school known with liberal educational policy even today, which is combined nursery to high school, and Robert later let both of his daughters study at same school. He also recommended his niece in Tokyo to study at Seishin University, alma mater of Ms.Ogata. Sadako must have been wise girl indeed.
In OREGON Encyclopedia, Sadako Ogata is listed as its famous alumni but she was only there for 3 years until she is 8 years old. This is an assumption but maybe Robert maintained her registration so she can return after the war.
I have inquired to school, and they confirmed that she is listed as graduate from the high school.
According to 25th November 1976 Oregonian (Photo 3) Robert Shiomi has been awarded for his long time dedication to promotion of better understanding between Japan and America, support of exchange students and cultural organizations. He did not let his fellow relatives on this, and even his niece, my mother did not know till she read the article. Simple man as he is.
photo3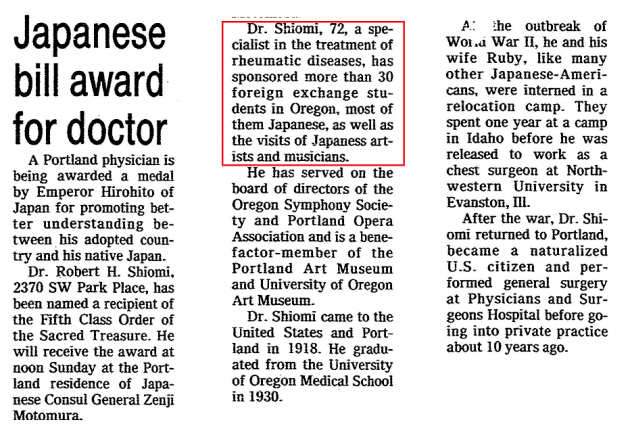 *1 「America from grandchild of Soseki"」 P17 Yoko Matsuoka McClain Shinchosha  1984
*2 Celebration of Life: YokoMcClain.org  memorial site of Yoko Matsuoka McClain, administrated by Ken McClain
*3 United Nations High Commissioner for Refugees, President of the Japan International Cooperation Agency (JICA). Words of praise fall out for her. If you don't know her, please google her.
*4 Sadako Ogata This world with endless war NHK 2014
*5 Story from my mother. Toyokazu Nakamura was recipient of wedding certificate of Robert and Ruby, submitted to Japanese consulate of Portland. In Portland, where Nikkei are few, it is not surprise for diplomat with small children to have close relationship with Japanese doctor of same generation who offers house visit. I have boldly inquired via JICA, and was told that she does "remember the name, but was too young to remember more" by secretary. I would like to take this opportunity to apologize for the trouble.
関連記事